Are you wondering how to leverage your presence on LinkedIn to build social influence?
Regularly updating your status, joining and participating in groups and answering questions is just the start.
There are also a number of ways to build deeper relationships with your connections on LinkedIn. I'm going to ask you to shift your thinking and consider the following:
Spend some time on LinkedIn connecting your contacts.
If you truly want to build social influence with your connections and become more valuable to them, dedicating time to strategically helping others can elevate your "social" status.
People want to be connected with a connector! Connectors are considered valuable resources because they're genuinely interested and engaged in helping others succeed.
Working to connect your connections on LinkedIn not only helps you become a more influential person, you'll also benefit from triggering the rule of reciprocity. Essentially, the rule of reciprocity states that when you do something that can benefit someone else, you're making a psychological deposit with that person and he or she will feel obligated to repay the favor.
LinkedIn is the perfect environment in which to put the rule of reciprocity to use.
Why? Mostly, the network is transparent. LinkedIn members are sharing not only information about their professional background, skills, and experience, but they're also sharing personal hobbies and interests. Never before have you been able to see all of these details about your professional network laid out right in front of you. The power of the LinkedIn network provides a compelling opportunity to grow your business.
A 3-Step Process for Connecting Your Connections on LinkedIn
#1: Analyse Your First-Degree Connections
Here's a big-picture exercise that will get you thinking about who you know, what's important to the people you know and who should know one other within your LinkedIn contacts.
Go to the Advanced People Search tool within LinkedIn. Under the "Relationship" section on the left, filter for your first-degree connections only (see image below).
This will bring up a list of all of your first-degree connections. Make sure to choose "Expanded View" to see more details about your connections within this search. A free LinkedIn account will show you up to 100 profile results per search.
The Advanced Search tool is located at the top right of your profile page.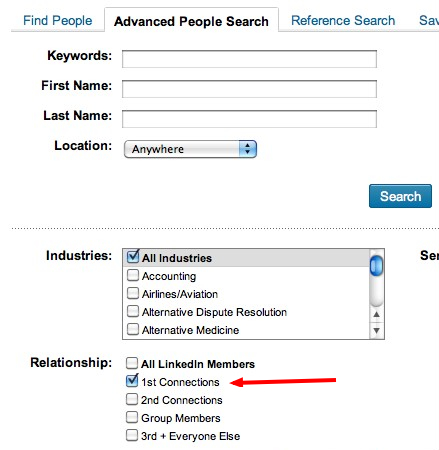 Filter for first-degree connections.
Once you've pulled up the search results, scroll slowly through your entire list of first-degree connections, looking closely at faces and titles. Simply spending some time scanning through this list of connections can help trigger and uncover common ground among your connections that you may not have thought about. Take notes as you go through this process.
Next, identify your 10 best business relationships from this list and jot them down. Also add the 10 most influential people you're connected with (there may be some overlap). Now it's time to analyze your first-degree list of best relationships and top influencers.
Are there similar personality types? Do any of the career and business paths of your connections intersect or have complementary characteristics (i.e., could you connect an executive leadership coach with an executive, or an entrepreneur with a venture capitalist)? Whom can they benefit from knowing, being connected to, or working with on your list? Do any of these individuals live in the same geographic area? Do any of them have similar personal interests or belong to the same LinkedIn Groups or outside organizations?
Unfortunately there is no quick way to conduct this in-depth search other than to view the profiles manually and identify all the potential links. However, it will be well worth your time! Bringing together your best relationships with your top influencers is a very powerful exercise and you should get to know as much as you can about these individuals.
An example in action—connecting the dots:
John owns his own technology firm and Sam is a financial professional. They live in different states but they're my first-degree connections. Through my relationships with these two individuals I've learned that they're both Ironman triathletes who blog about their triathlon training and experiences, and they both strive for their personal best in business and in life. In my mind, these two must know each other and there could certainly be an opportunity for them to do business together as well.
Both John and Sam were extremely grateful for the introduction and were thrilled to meet a like-minded acquaintance with a passion for competing in triathlons. In this example, I was able to come up with this mutually beneficial connection by simply scanning through my first-degree connections and concentrating on what I know about each person, both personally and professionally. It's all about connecting the dots!
#2: Filter Your First-Degree Search by Geography, Industry and/or Keywords
This time, start your Advanced LinkedIn search for first-degree connections, but run some filters. We'll start by filtering your search results for geography and get more specific from there.
Using the Geography filter, choose the location where you have the most connections. Now study these profiles and go through the same questions listed in exercise #1. Who in this group of connections should be connected to one other and why? Can you see any professional common threads among those professionals who live in your area?
Now let's narrow it down further and apply some filters for industry. First, view your connections who work in the same industries. Are there any opportunities for these individuals to benefit from networking with industry peers? Next, check the boxes for a handful of industries that could be complementary (i.e., financial and legal, marketing and design). Are there opportunities to connect any of these individuals where it could be mutually beneficial from a business standpoint?
Finally, let's narrow it down even further by applying a keyword filter that describes a hobby or interest. The strongest ties are those that center on personal interests. The Keyword search box will be at the top left of your Advanced Search screen. If you need help coming up with a keyword for personal interests, look at your own interests that you've listed on your profile and use one of those words or phrases. What are you interested in and passionate about? What are your best connections interested in and passionate about?
An example in action—personal interests are powerful:
I've got about 130 professional LinkedIn connections in Dallas where I live. After I've run the first two filters (location and industry), I've got a list of 37 people whom I feel would benefit from being connected on a professional level. I then decided to run a keyword filter for the word "golf," and that narrowed it down to 4 individuals! Now I've identified 4 of my connections who all live in my area, work in similar or complementary industries and enjoy golfing. I can decide from here whom I want to connect, and even connect the entire group of people through a golf outing!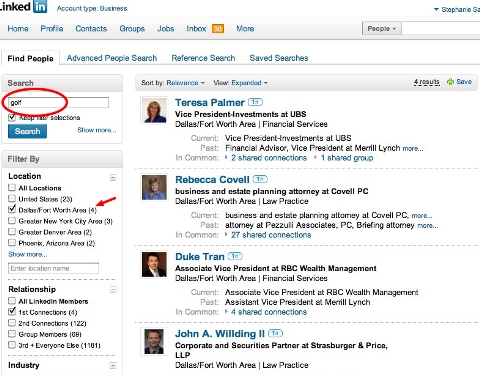 Filter your searches to find common ground among your first-degree connections.
Go through this process numerous times with your first-degree connections, but reverse and play around with the order of your filters.
For example, start with a keyword based on one of your interests, and then filter for geography, followed by industry. You can certainly connect others across the country as well. There are really no rules here other than the more common ground you can identify among the connections you connect, the more relevant and meaningful that introduction will be for both parties.
#3: Send Both Connections a Private Message
Before you utilize the LinkedIn introduction tool, I strongly suggest you send a private message to each of the individuals you're going to be connecting. First you'll need to decide who'll be the person you introduce and who'll receive the introduction. Send a private message first to the person you'll introduce. Use something like the following to let him or her know what to expect:
"Hi Sam, I know someone whom I think you would really enjoy meeting and we are also connected here on LinkedIn. His name is John ______ and he owns a technology company here in town. I realized that both of you are passionate about triathlons and even do some blogging on the subject. I wanted to introduce the two of you because you seem to have a lot in common, and you're both here in Dallas! I will be sending an official LinkedIn introduction over to him shortly to introduce the two of you and you can take it from there. Let me know how it goes! Hope business is going well and let's get together soon!"Warm regards,
Stephanie Sammons
For the person who'll be receiving the introduction, send him or her a private message as well as notification that your introduction will be coming soon. Always send these private messages first to make it clear to both parties what you're trying to accomplish, otherwise it can be confusing.
Once you've sent the private messages, you can send over the official LinkedIn introduction. You can access the link entitled "Make an Introduction" from your connection's profile.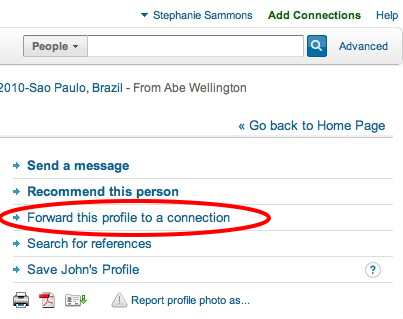 LinkedIn makes it simple for you to introduce others.
The best way to ensure that these new connections you're creating on LinkedIn will evolve into potential relationships is to do the work up front, and uncover all of the potential intersecting points or commonalities with your first-degree connections. The more people have in common—especially around personal interests—the more likely a new relationship will develop and thrive! You'll be appreciated and respected for taking the time to connect the dots and piece these introductions together, and most importantly, you'll build significant social influence!
It takes work to be a connector, and the benefits may not be immediately measurable. Long-term, however, you'll reap the rewards in ways that you may not even be able to imagine today. Not only will you become a more valuable and influential person to your existing connections, you'll open the door for new connections and introductions for yourself.
Have you tried connecting people on LinkedIn? Do you have any tips to add? Please share your story in the comments box below.
Warren Knight thanks Stephanie Sammons