As a Generation X-er with two kids under two, I'm really interested in the future of work, and how business and the workplace are going to look by the time they're adults.
After Generation Z will come Generation Alpha, also known as the iGeneration, they'll be the most influential generation of the 21st century, because by the time the last of them is born, around 2025, there'll be two billion of them in the global population.
But before they come of age, we've got Generation Z, and over the next ten years or so, they're going to shape the business world my kids will enter.
So who are is Generation Z?
First, they're not Millennials (also known as Gen Y). Generation Z-ers were born between 1996 and 2010, so older members of the group are now growing up and getting ready to work. According to Forbes, by 2021, they'll make up one-fifth of the workforce. So your business had better be ready to start hiring them.
While you might remember the first time you ever surfed the net (did you Yahoo?) and maybe sometimes still struggle with your Samsung, they're digital natives, and don't remember a world without smartphones, let alone the internet. They've seen the effects recent recessions had on their parents, and they've got their own set of work priorities. They're after security and stability, and having grown up in the #MeToo era they're savvy about authenticity and transparency in management, and don't accept any nonsense. Whilst Millennials tend to be all about purpose and following their individual path, Generation Z seem to want career progression in a more traditional, linear and upward sense.
Being digital natives, Generation Z-ers don't struggle with some of the aspects digital life in the same way that older generations do. Afraid of being in front of the camera? Not them. Making a video your idea of hell? Generation Z are (generally) completely comfortable with it. They've grown up with a camera in front of their face their whole lives, and recorded a lot of them. And as they approach their working lives, they will now use these natural skills and abilities to achieve the levels outreach and engagement that many companies can only dream of.
When I was delivering a keynote in Kuala Lumpur recently, I shared the stage with Nick Skytland, Agency Talent and Technology Strategist at NASA. Nick's job is to seek out talent and unlock the passion for human spaceflight (is that possibly the coolest job in the world?), and he had some interesting things to say about Generation Z and the impact they're going to have on the workplace.
He's also written a fascinating series of articles about the future of work, based on NASA's Future of Work study, and I'm going to share some of the key insights with you.
NASA's study defined a framework for future change that covers eight themes: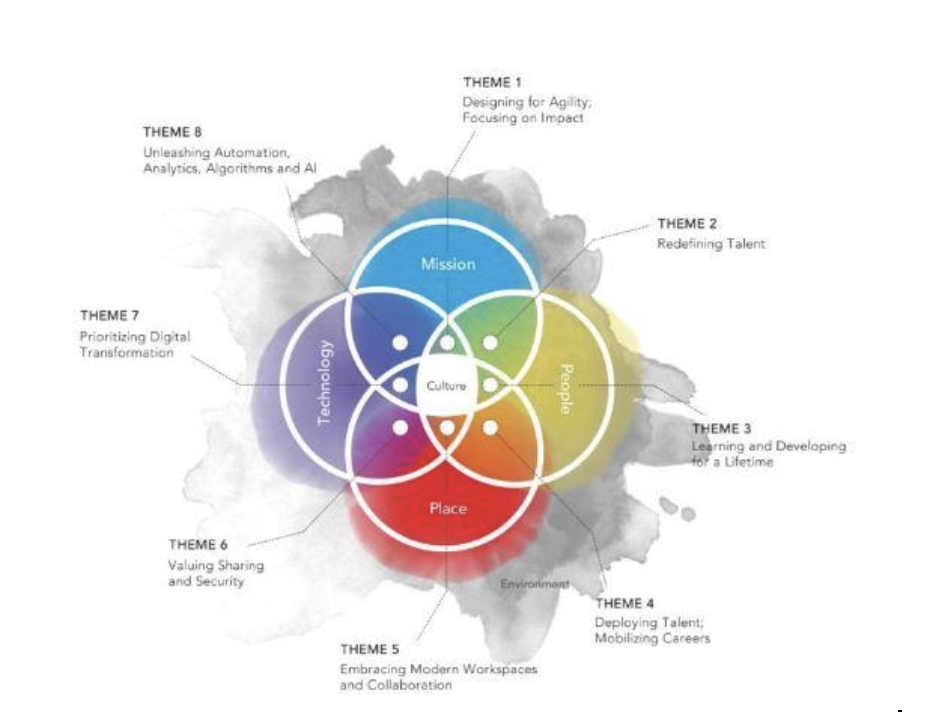 You can read the full article by Nick on the NASA blog
This framework emerged from their Future of Work study, which was designed to help them understand the disruptors driving the future of work, and involved workshops and interviews with hundreds of employees. They categorised the four major forces for change in an organisation as:
People

Mission

Place

Technology
Then they identified eight themes which highlight NASA's challenges and opportunities. I'm going to focus on the tech aspects. You'll see that technology priorities were defined as:
Theme 6: Designing for sharing and security

Theme 7: Prioritising Digital Transformation

Theme 8: Unleashing Automation, Analytics, Algorithms and AI
Let's have a look these three themes in more detail.
Designing for sharing and security
Leveraging data to drive insights into your organisation and your customers is critical for your business growth and success. Yet access to business critical data (for example via mobile devices) is often limited by security needs. Gen Z are going to expect full access to all business data systems via modern data architecture.
Prioritising Digital Transformation
You won't be surprised to hear this from me, but examining your business an identifying opportunities for digital transformation is one of the most important actions you're going to need to take. Remember that successful digital transformation isn't about the technology, it's about the people. Done effectively, it will transform your decision-making processes and drive efficiencies across the organisation – and a genuinely digital work environment will be essential to attract Generation Z workers.
Unleashing Automation, Analytics, Algorithms and AI
Technology advances are already allowing businesses to organise themselves better and make more efficient use of their talented, qualified people. As AI capabilities develop, access to real-time data analysis, streamlined processes and objective decision-making all become possible for more businesses – so your teams can focus more on the creative, innovative aspects of driving the business forward.
What this means for your business is potentially a rethink of how you're using technology, to ensure its fitness for purpose for the world that Generation Z are going to work in; and a look at your working environment to provide the right places, spaces and access for your future workforce to perform at its best.
Get digitally fit
According to Nick, technology is the most widely discussed driver for change in the workplace. These Generation Z digital natives aren't just comfortable with technology; it's an integral part of their lives. Yet many business owners aren't yet ready to recognise that they aren't delivering a digital environment, let alone take action to change that. Forward-thinking organisations are considering 'digital fitness' to be at the core of a sustainable business for the future and making sure that the technology (and training) is there to support an innovative future.
What does this mean in practice? It means you taking a tough look at outdated technology and getting clued up on what Generation Z-ers are going to expect. They'll assume that any devices can be connected to your systems, and that precious resources (like paper) aren't wasted. You might need to look at new software options for internal and external communications, document sharing and brainstorming to ensure that every aspect of your business is fully connected.
Working spaces
Where, when and how we work is changing rapidly, and as Generation Z hits the workplace, that's only going to accelerate. We're moving towards a more connected, global workforce, so using digital technology effectively to engage remote workers in virtual, digital spaces is going to be key.
Whilst Millennials are all about collaboration, Generation Z looks like bringing a more independent and competitive edge back to the workplace. But that doesn't mean they always want to work alone. Forbes highlights a Cigna study which revealed how Gen Z experience high levels of anxiety, loneliness and distrust. So whilst nurturing a competitive spirit will be important, it will also be vital to foster an environment where they can balance their independence with teamwork and social interaction. So this might mean looking at your open plan space and making sure you've got plenty of breakaway space for when they need to get their head down and work alone.
Working places
According to NASA's Future of Work study, in 2017, 10.1% of the US workforce made use of some form of alternative work arrangements (eg following a flexible work schedule, job-sharing or telecommuting). 60 million US workers are engaged in the gig economy, and that number is expected to keep rising, until, by 2027 it represents the majority of the US workforce. We can expect similar shifts elsewhere. It's a massive disrupter of traditional work patterns. Traditional employers dependent on full-time hires might find the shift uncomfortable, but there are plenty of non-core activities that can operate differently – especially when your technology is set up to enable seamless access to business data from any location.
What do you want your future workforce to look like?
One of the benefits to modern workers of working in the gig economy is the freedom and flexibility that allows them, not just to dictate their own working patterns, but to use their varied skills to fulfil multiple roles.
Of course, the downside for workers operating as independents or freelancers is economic vulnerability, and as we've already seen, Generation Z is likely to prioritise job stability and security.
Many business coaches these days are focussing on helping employees develop their skills and values – building transferable skills that enable them to straddle multiple areas within their employer's company. This relates to the idea of having your employees' skills and attributes dictate their job – something increased digital automation of core, mundane tasks enables, as it allows you to refocus talented people on more creative roles – rather than fixed job role dictating skills development.
Taking this approach to your employees' roles within your business could help you to reduce staff turnover, as people are able to find more meaningful roles and progress their careers within your organisation, rather than having to move on, something Generation Z are likely to find appealing.
So, if you want your business to be attractive to the next generation of talent, now is the time to take a long hard look at whether you're operating in an environment that's going to attract them. If digital transformation and innovation aren't at the heart of your business strategy, the chances are you're going to need to rethink that. Maybe the first question you need to ask yourself is – what do I want my business to be when it grows up?