You're Already Late – Organisational and Time Management Secrets for Small Businesses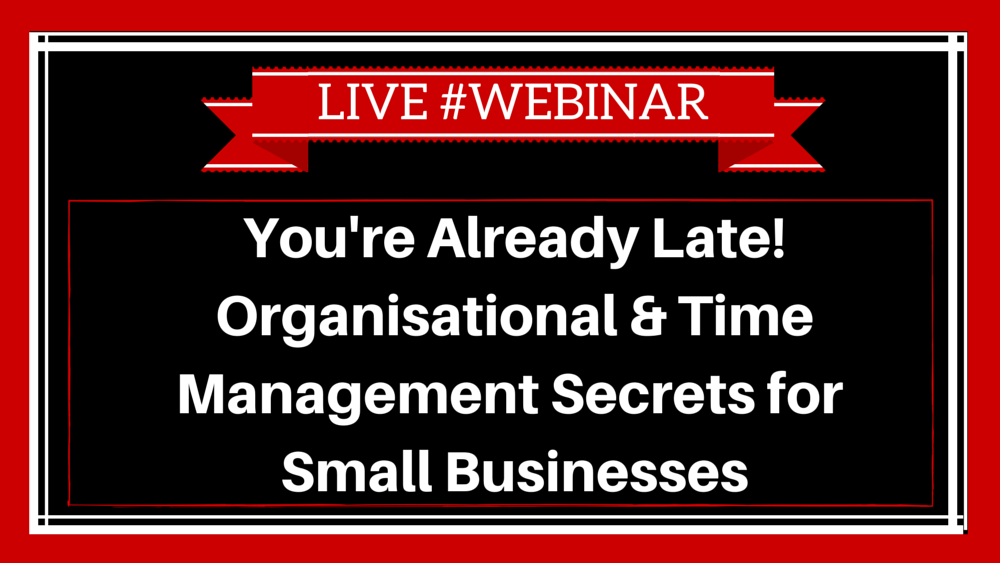 In this 1 hour live webinar you will learn that, poor time management isn't cured by technology – it's probably aggravated by it. It doesn't matter how smart your phone is if you are overwhelmed and unfocused. People waste 6 weeks per year searching for lost documents. That's £8,000 lost for every £100K. As a small business owner, the lost opportunity costs are even greater. We're interrupted every 8 minutes and it takes 23 minutes to recover—no wonder you have to work 12 hours to get 8 hours of actual work done.
In less than one hour, you'll learn:
• How to manage e-mail, social media and other digital communication quickly and efficiently
• How to run effective meetings and when to avoid them
• How to manage work interruptions effectively
• How to finally break free from procrastination
• What to delegate and when
• How to leverage your most powerful tool—your calendar—to get things done
• Why multi-tasking always fails and what you can do instead
• Why to-do lists never work
• The best time tracking, task management and other apps to simplify your work
… and more!
Break free from bad habits, constant chatter and get the big work done now—"someday" doesn't exist and "later" never comes. There are simple, sustainable ways to work smarter, not longer. Andrew Mellen, "The Most Organised Man," will show you how to squeeze the most out of every minute without having the life squeezed out of you.