Think #Digital First Press Release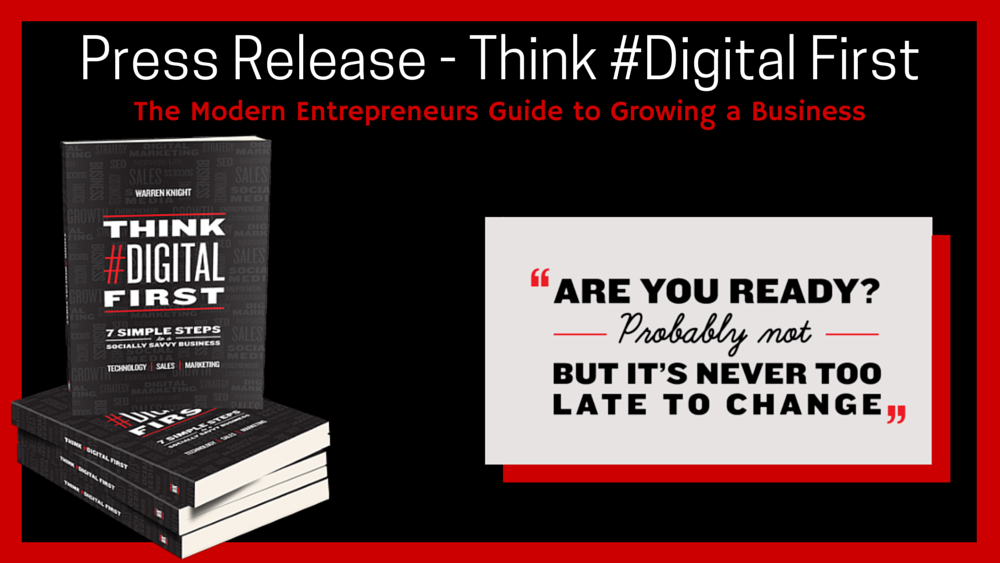 Press Release
Think #Digital First
The Modern Entrepreneur's Guide to Growing a Business
Think #Digital First is a seven step guide designed for creative entrepreneurs, business owners and sales and marketing managers, to demystify the new digital age, equip them to build a socially-savvy business and build their entrepreneurial footprint online.
From strategies for effective time management to the latest tools and technology, each of Warren Knight's seven steps is geared toward establishing a framework for success.
Warren has over 20 years' experience in marketing and selling products and services globally, in an impressive career which includes working with Disney and Nickelodeon, where he grew the business from a $5 million to $30 million company in a 5-year period, selling to over 30 countries, and achieving $1 million sales in one month. Fascinated by social media, Warren has immersed himself in its evolution for the past decade, quickly establishing himself as one of the industry's leading minds in the digital social space.
Speaking internationally on topics such as How to do your social media in 30 minutes a day and Why entrepreneurs fail to think #Digital first,
Warren has helped thousands of start-ups and SMEs build their digital footprint, increase sales by up to 500% and grow their business through social media, digital marketing and ecommerce.
Warren's seven-step process covers;
Step 1 – YOU: There will only ever be one
Step 2 – Framework for success
Step 3 – Protecting your time: Focus on Sales
Step 4 – Setting up a socially-savvy business
Step 5 – Tools to make your business grow
Step 6 – Strategy and implementation
Step 7 – Customer retention through loyalty
The book launch will be "live streamed" for the world to watch in real time. The first time Filament Publishers have live streamed a book launch.
For further information on Warren and Think #Digital First see;
Please contact Starr on starr@warren-knight.com or 020 8113 9381 to find out more information.