Social Media Bootcamp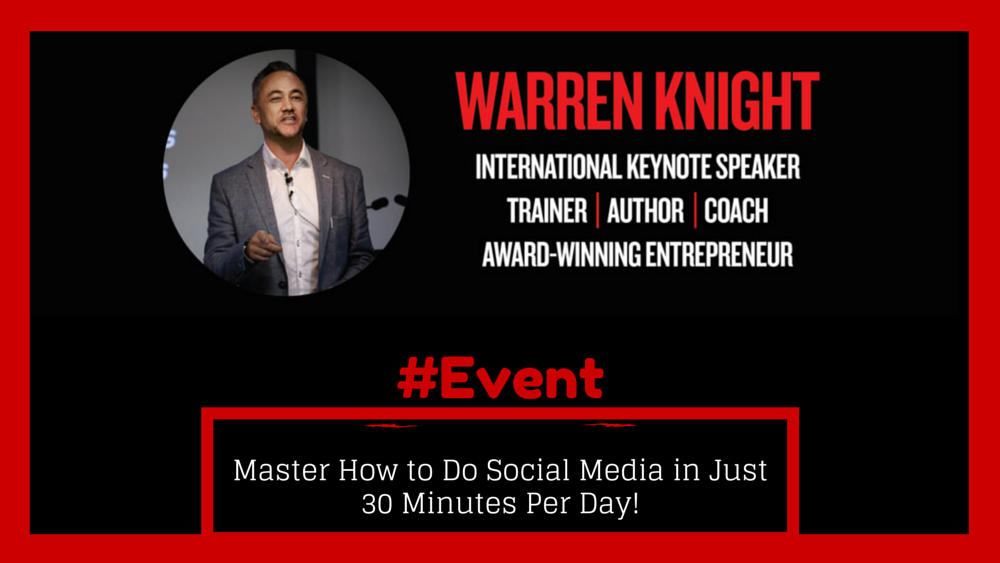 Next London Bootcamp: Thursday 25th June 2015
9:30am – 5:30pm
You're now using social media as a way to marketing and get sales for your business, but spending hours of your time talking about your products or service and not getting the results you need. Let ME help YOU with my Social Media Bootcamp!
This 1 day Social Media BOOTCAMP is designed for individuals that are already using Social Media but want to ACCELERATE their business growth, with a Weekly Strategy and a 90 Day Plan, driven by a 12 Month Marketing Strategy, getting your brand in front of the right person and getting you on the 1st page of Google in your industry.
Discover:
5 of the biggest MISTAKES companies make using Social Media
How to spend more TIME working ON your business
Increase SALES by 500%
Get FREE traffic to your website
Listen:
One of the BIGGEST mistake companies make is not to listen before starting with Social Media. In this 1 day workshop, Warren will show you HOW to listen to…
A. Your Industry
B. Your Competitors
C. Your Customers
How Can I Help: Warren will work with you to tailor your message to match your business needs online, to help you understand what your customers are saying, giving you the tools to use and then how to automate the process minute-by-minute.
Strategy:
Having a very clear CONTENT MARKETING STRATEGY is key to getting online sales.
You do not have to write your own content, YES it's important to have a voice and be passionate and WHY you do what you do, but you must have a clear plan to share and automate your message to your audience.
How Can I Help: Warren will share with you the step-by-step process and the templates, you can take-away and implement into your weekly marketing strategy.
Analyse:
Data is one of the single most import indicators to understanding WHERE you business is grow or needs help. Setting Key Performance Indicators is essential in accelerating your business growth.
How Can I Help: Warren will show you HOW to use the tools to analyse your marketing campaign and give you the templates to use for all future communication.
At the end of this session, you will have the knowledge and tools to;
Grow your business online through SEO

Attract the right kind of traffic to your website

Convert visitors into leads

Convert leads into sales

Turn customers into repeat, higher spending customers

Analyse for continuous improvement to your over marketing strategy
Who is it for?
SME Business Owners

Marketing Managers

Consultants

Start Up's (who already know the basics)
What do I need?
Laptop (Tablets are OK but you will be limited)
Brand Vison & Mission statement
Set up all the social networks, that are important to your business
A smile and willing to learn