LinkedIn Success in Six Simple Steps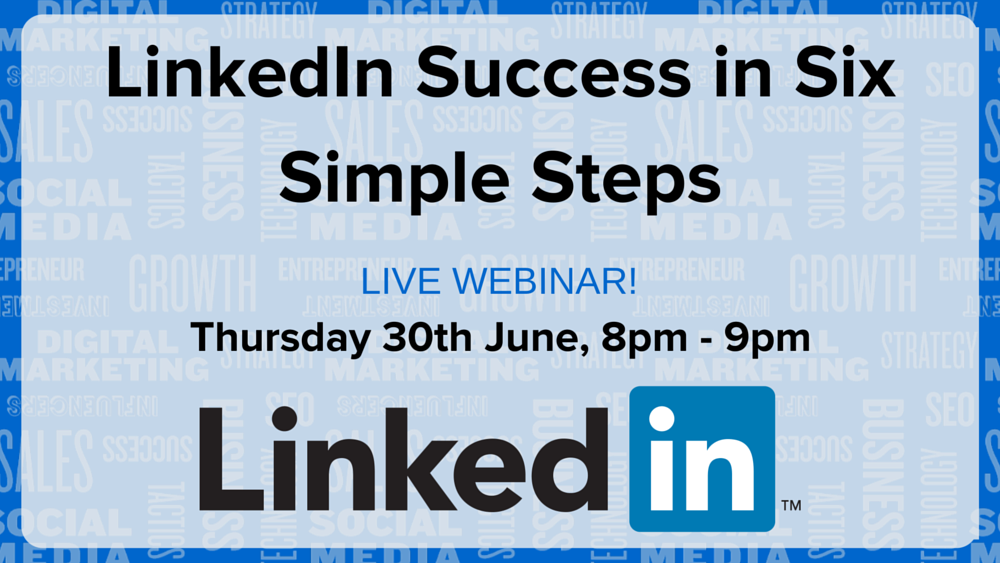 WHAT THE WEBINAR WILL COVER:
My Six step formula to building your profile and generating leads
Build your LinkedIn network with 500 QUALITY business connections
How to find potential customers using LinkedIn's search functionality
Get to the top of LinkedIn for your specific keywords in less than 60 seconds
Utilise all of LinkedIn's features to put you one step ahead of your competition
How to share targeted and relevant industry information
Learn 3 SECRET LinkedIn features you didn't know about
The do's, and don'ts of your profile image
Design and implement a networking strategy
SIGN UP IS CLOSED
[register_free_webinar webid=6541782299217086209 pageid=102-907-315]
WEBINAR TITLE
LinkedIn Success in Six Simple Steps
WEBINAR DESCRIPTION
In this live and free 1 hour webinar, I will take you through the my "Six Step from Path To Purpose" to help you understand how-to use LinkedIn for success and achieve an "All-Star" profile.
I have over 8,000 connections, 220 long-form posts, and over 10,000 content followers on LinkedIn. One of my posts has received over 4500 views, 900 likes and 60 comments and can attribute a 5-figure income JUST from LinkedIn alone, as an "All Star" profile.
Whilst as a business you might have a social media strategy to connect with your target customers, as a business owner, entrepreneur or sales and marketing manager you personally have to decide what YOU want to get from YOUR LinkedIn profile.
Go to the next level and learn "how-to" use LinkedIn via my 21 Day LinkedIn System