18th Annual Marketing Congress, CAMP 2019, June 13th 2019, Lima, Peru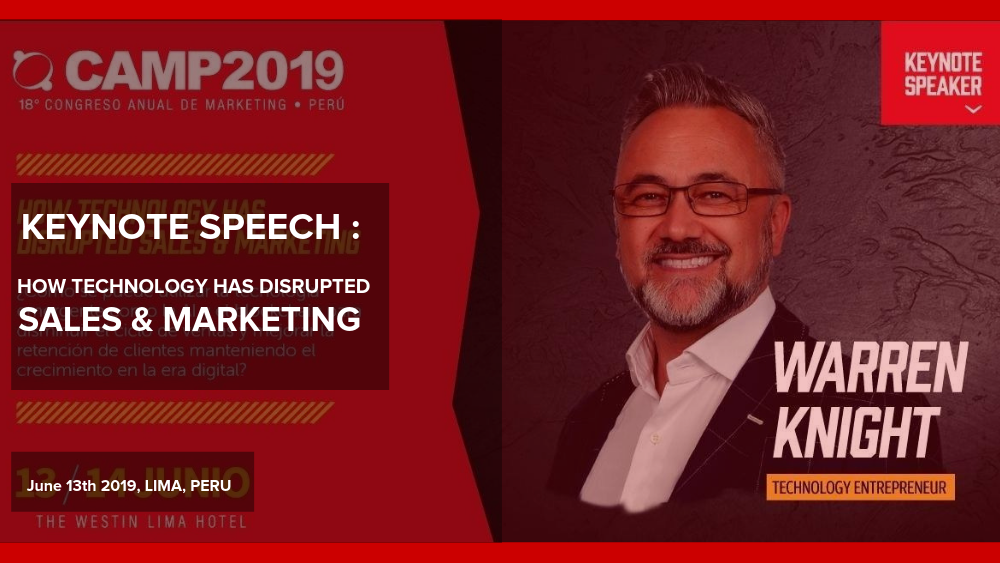 On the 13th June 2019 Warren Knight, Digital Leadership and Digital Transformation (DX) strategist will be delivering his keynote 'How Technology Has Disrupted Sales & Marketing' at the 18th Annual Marketing Congress – CAMP 2019 in Lima, Peru.
In this thought-provoking keynote, Warren will be sharing with you how every business can use emerging technology like A.I and blockchain to help grow a business in a digital age.

Warren will share how building brand awareness, marketing to your niche target audience helps decrease the sales cycle and embraces building customer retention by using the latest technology.

You will walk away with a digital sales and marketing strategy to implement immediately into your business!
The Event
CAMP 2019 is an event arranged annually by ANDA the Association of Advertisers of Peru and Seminarium. It is recognised as the forum that puts key issues for the development of marketing on the agenda in Peru.
Some of the themes covered by the event are
Brands in the world of social media culture.
Do you know your consumer? Trends, consumers and shoppers insights.
Technologies applied to marketing.
Changing the mindset of the marketer. The new rules of the game.
Read more here
EVENT:
18th Annual Marketing Congress, CAMP 2019
VENUE:
The Westin Lima Hotel & Convention Center – Lima, Peru
WARREN'S KEYNOTE:
How Technology Has Disrupted Sales & Marketing
DATE:
13th June 2019, 5:05 pm- 5:45 pm