Digital Leadership & LinkedIn – EAGB Meeting – January 9th 2020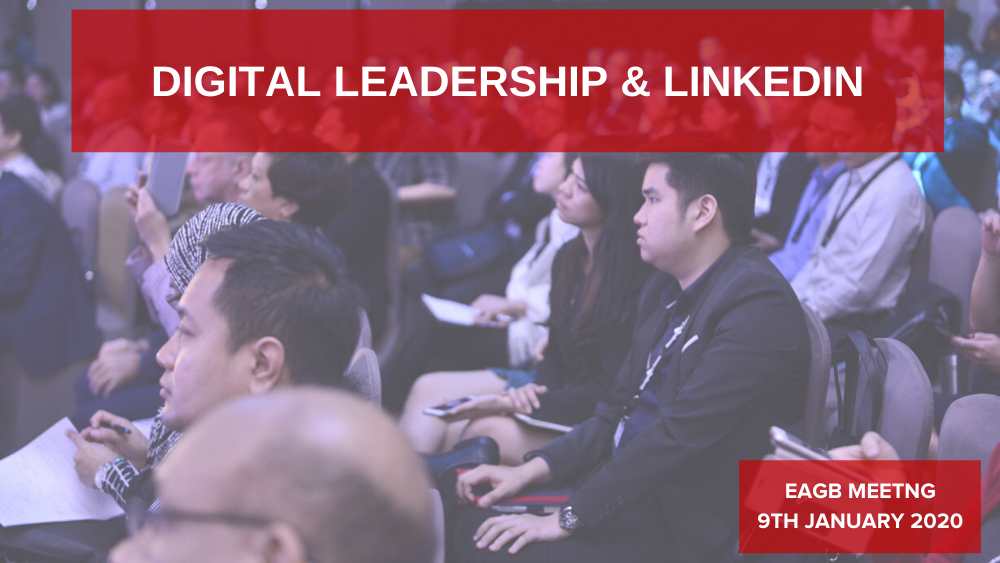 DIGITAL LEADERSHIP & LINKEDIN, EAGB MEETING – 9TH JANUARY 2020
On 9th January 2020, Warren Knight will be speaking at the EAGB Meeting in London.
The digital revolution is here to stay and digital leadership is about engaging authentically with prospects online who have a solution you can sell or problem that you can solve. The goal is to allow people to engage with you and your brand on the platform of their choice.
Leaders across organisations of all shapes and sizes must be "digitally ready" – to know what's on the horizon and start planning and preparing for it now.
During the informative and action driven presentation, Warren will outline ways you can leverage technology to ensure your business is future ready.
After hearing Warren you will –
Have a thorough understanding of 4.0 digital age opportunity, how to move forward, execute and measure both culture and customer success.

Feel motivated to take action as a digital leader in your industry and be inspired by new possibilities and opportunities in today's digital world.

Be a true firestarter (brand advocate) by ensuring your core values are aligned with your organisations vision for the future.
About Warren
Warren is one of the UK's most engaging, dynamic and sought-after international keynote speakers.
As an expert in Digital Leadership utilising the future of work, A.I. Blockchain, Fintech, IoT, Automation, and Digital Marketing effectively, he has spoken on 5 continents and in 21 countries from industry conferences, trade shows, and summits, to corporate events.
DATE:
Thursday, 9th January 2019
TIME:
12:00 PM
TITLE:
Digital Leadership & LinkedIn
VENUE:
Four Seasons Hotel London, Ten Trinity Square, 10 Trinity Square, London, EC3N 4AJ