How To Be a Digital Leader and Use Social Media to Increase Your Speaker Profile – London June 8th 2019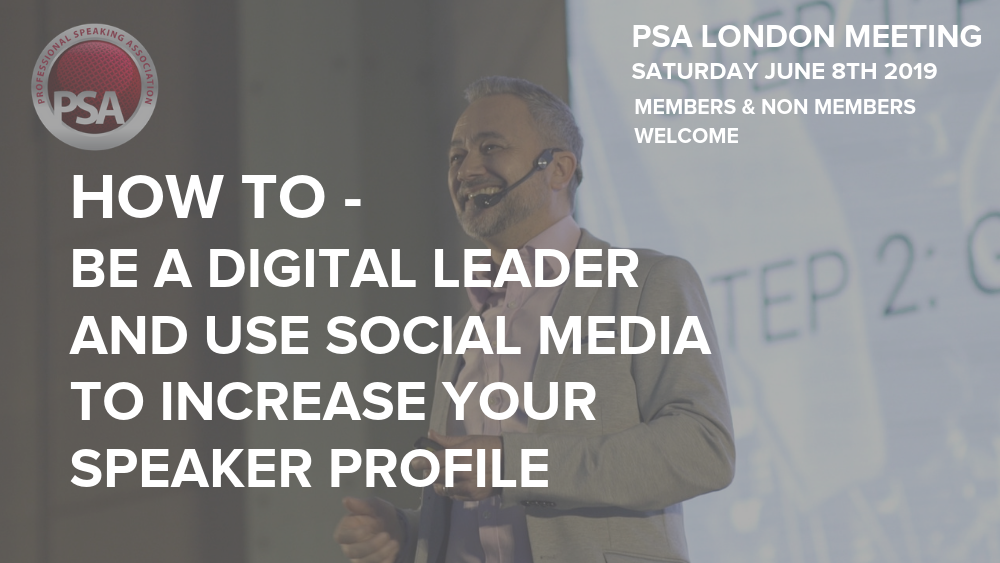 On Saturday 8th June 2019, Warren Knight, Digital Leadership and Digital Transformation expert will be one of the speakers at the monthly meeting of the PSA's (Professional Speaking Association) London region.
In his thought-provoking presentation – "How To Be a Digital Leader and Use Social Media to Increase Your Speaker Profile", Warren will be sharing with you how every speaker can embrace technology from social media to marketing automation and A.I. to help increase your speaker profile in a digital age. Warren will share how building brand awareness and marketing to your niche target audience helps decrease the sales cycle and embraces building customer retention by using the latest technology. You will walk away with a digital sales and marketing strategy to implement immediately into your business!
Other speakers on the day include Roger Fairhead, the regional president of the PSA in Staffordshire, and an expert in leadership specialist delivering Leadership for Organisational Achievement through Speaking, Training and Coaching to business leaders and executives and Jamil Qureshi who is one of the foremost practitioners of performance enhancing psychology.
You will also hear from a panel of speaker bureau and CEO group owners who will explain what the range of outcomes different speaker bookers have and how to navigate the path to them!
This one-day event will help you to get more speaking gigs. You will understand how to improve your chances to getting noticed by people who regularly book speakers, and to improve your marketing.
You will walk out with tips and tactics you can use the next day, and strategies to change how your speaking business.
In the room will be people who are new to professional speaking and international keynote speakers.
Members of the PSA and their guests are welcome to this event.
About the organiser
The Professional Speaking Association (PSA) was launched in January 1999 as a professional body for those engaged in speaking professionally with two fundamental goals:
to raise the standards of professional speaking;
to promote speaking as a professional industry.
Ultimately they want speakers to Speak More and Speak Better. They are arranged regionally across the UK and help new and experienced speakers make the most of their talent and expertise. They do this via through seminars, publications, networking and mastermind groups. Visit their website.
About Warren
Warren Knight is a Top 100 Global Influencer and internationally recognised professional speaker, trainer, coach on Digital Leadership and a Digital Transformation (DX) strategist, he's an award-winning technology entrepreneur with 12 years digital experience and author of Think #Digital First.
EVENT:
London PSA June Meeting
DATE:
Saturday, 8th June 2019
VENUE:
ETC Venues, 86 Edgware Road, Marble Arch, London W2 2EA
KEYNOTE:
How To Be a Digital Leader and Use Social Media to Increase Your Speaker Profile