Your Digital Marketing Director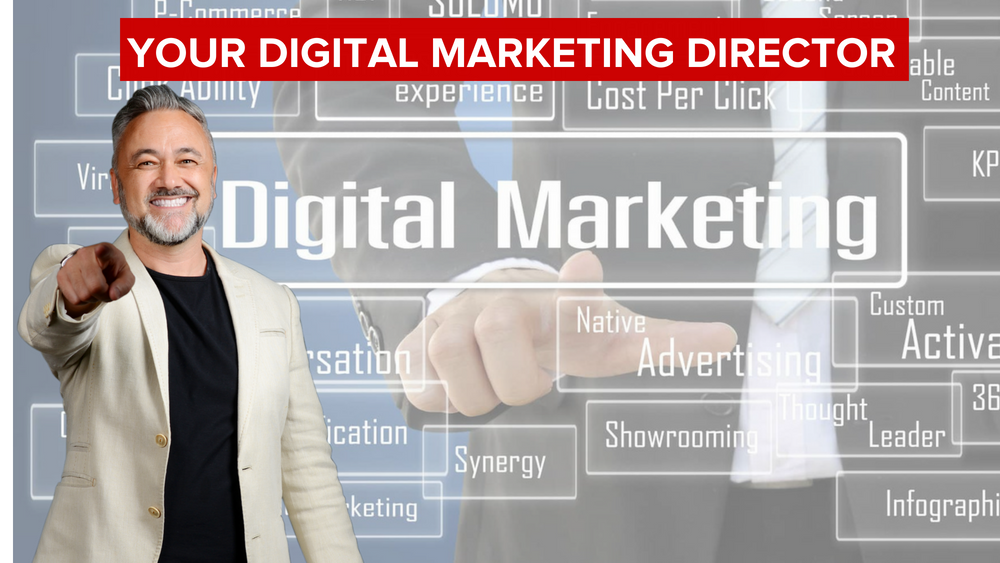 I'm guessing you're here…
because you need help breathing new life into your business and you feel lonely and nervous at the prospect of growing your business without embracing the Digital Revolution.
Maybe you're feeling frustrated and challenged at what to do next and more importantly how to do it.
Does this sound familiar?
Well, you're not alone… Having surveyed 1000s of business owners in the UK and 67% of business owners don't have a strategy and yet 81% say it's the No.1 thing they need to focus on.
Allow me to introduce…
your New Digital Marketing Director or as it's called in the modern workplace your – Chief Revenue Officer
To hire a highly sought-after Digital Marketing Manager or Director that converts visitors into customers will be time-consuming and expensive,  in case you haven't already tried it…
Your Digital Marketing Director is a one-stop resource to help you:
Prepare a vision for the future
Design a digital roadmap
Have a go-to-market strategy
Create engaging content
Implement a flawless campaign
On-site project management that turns profits
Track and measure for future success
The Plan
The plan is as follows:
Penetrate – Launch and sell more of your current product or service to the existing market. This is the lowest risk approach to growth as you know your market and how your product/service delivers value. A marketing strategy and a digital marketing plan are required.
Expand – Sell the existing product or service to a new market. To be successful with this strategy, you need to understand the new market. A marketing strategy, marketing plan, and go-to-market strategy are  required.
Innovate – Sell a new product or service into your existing market. To be successful with this strategy, you will need to understand the pains, gains, and value delivered by  the new offer. A marketing strategy, marketing plan, and Go-to-market strategy required.
Aggressive – Sell new products into new markets. This is the highest risk and requires the most effort to be successful. To be successful with this strategy, you need to understand the new market and how the new offer delivers value to this market. A marketing strategy, marketing plan, and go-to-market strategy are  required.
To do these we will need to design an effective digital sales and marketing strategy with growth in mind. A digital marketing plan will be created and the existing product or service offer will be revised to offer brand awareness in specific target markets and to ensure its appeal is maximised.
The new approach to your business growth will also be tracked and measured to achieve the best sales approach to the current target market and new revenue streams will be identified.
A communications strategy will be devised and tested to ensure its reach, clarity and effectiveness during each stage offering a 1st class customer service.
If you'd like to find out more, click the button, fill in your details and we will be in contact with you within 24hrs to arrange our 1st discovery call.
About Your New Digital Marketing Director
Warren Knight has 10 years digital marketing experience and 25 years sales and marketing experience, founded several companies over the past 25 years, worked with 1,000s of businesses owners and written a book all about it.
How can I help you?:
Do we offer all the goodies of a full-service digital marketing firm?

Yep, minus the full-time salaries and a team of experts in their industry.

Do we handle your business as if it were our own?

Of course, but you still call the shots.

Will we seamlessly handle the project from concept to completion?

100% yes and at each step of the way, upskill you to know how to do it in the future.

What about results?

Watch them roll in while you take all the credit.

Think your job is too big?

Don't – we can break it down into bite-size pieces and work at your pace with a clear deadline

Think your job is too small?

It's not the size of the job that matters, it's the ideas that count.

Is there any other group around with as much combined experience as we have?

Highly unlikely, but you're welcome  to go and do your research.

Feeling better already?

We thought you might say that.
You can take a deep breath now. We'll handle the rest and show you the results
Need someone on site?
Not a problem, we'll come to you. However, when we leave, you might experience severe withdrawal symptoms.
Don't say we didn't warn you.
Where to go from here?
Take a quick 60-second survey and we'll come straight back to you and set up a discovery call, to help you grow your business online.